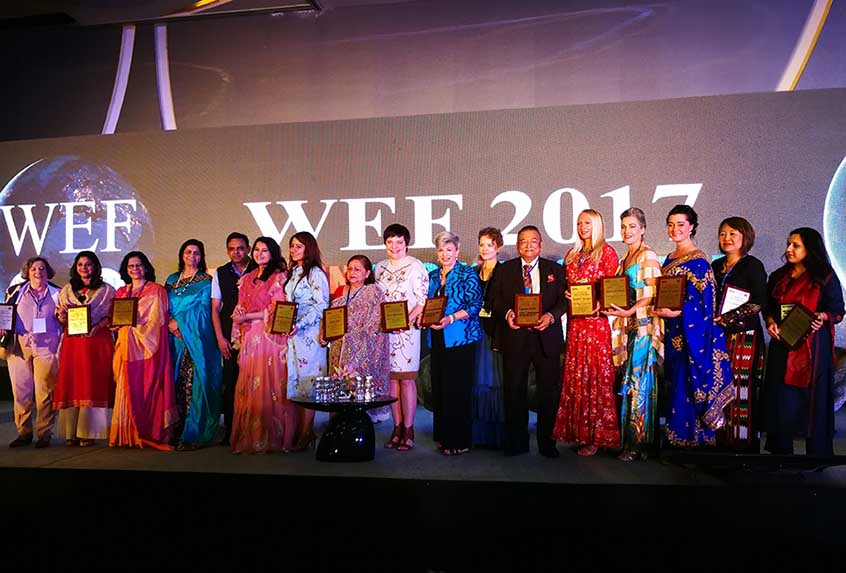 W.E.F (Women economic Forum) is an associate of ALL ladies league and it is a global conference to foster empowering conversations and connections among women committed to foster constructive changes in all walks of life.
WEF events are mega enablers of peer-exchange and learning in a diverse and interdisciplinary context, and are a powerhouse for massive connections and networking across the globe. Our events take place throughout the year and across the world, empowering women to expand their business opportunities and increase their global influence. WEF also welcomes men who support the cause of women's leadership in ALL walks of life. Our vision remains philanthropic, our spirit non-profit and our mode collaborative. We are here to unleash the power of each One through the power of our Oneness.
Women economic Forum has a vision of making- the invisible efforts of women more visible, their values more expressed, their talents more channeled, our entrepreneurial energies more vibrant, our contributions more recognized and our uniqueness unleashed.
With over 800+ chapters and 100,000 members across 150+ countries (and growing), ALL is the fastest growing worldwide web of women where women across strata and societies are coming together to discover their strengths and leadership in unprecedented ways. We focus on enhancing women's leadership in ALL fields through Inclusion, Inspiration, and Innovation.
In our hundreds of chapters and groups worldwide that function as Lighthouses beckoning those who seek support and need networks. Here, women from diverse fields are coming together and expanding circles of sisterhood and empowering the chain of change; helping each other in real time and in safe spaces to expand networks and collaborate in personal and professional ways.
Maninder Singh, who believes in gender equality and women rights, believe that education is the greatest tool for women empowerment and encourages women empowerment in every event globally. He believes, Women Education is the best medium by which they can display a better awareness of their rights and can make better choices of establishing a career along with becoming financially independent. Education will also help them know how they can shield themselves and protest against abuse. He is further the first proud male member of Women economic Forum